If Properly Equipped, Your Car Can Be a Lifesaver
Desert. Forest. Mountains. Valley. Beach. Plains. Cities. They can all kill you. But you are equipped with a tremendous advantage that these bioregions don't enjoy. YOU have a capable brain and YOU can therefore be ready for practically anything. This Survival Makeover article and video will teach you that you are not doomed when you face what others would call a disaster. As a wise soldier once said, "It's only an emergency if you're not prepared for it."
So this is our objective — assisting you in considering what you should pack in your car to be ready for almost anything. [If your car is struck with a meteor while you're in it… you had a good run and you left this world in a blaze of glory.] Watch the video below if you prefer to see the items and get additional commentary.
Items To Consider Including in Your Car's Survival Makeover
Jumper Cables No strong preference here. Just get a set of reliable, longer cables (12ft+) so you can jump a car without needing to park right on top of it. We used these in the video.
Goal Zero Venture Jump / Jump Box There are loads of options out there. Rusty purchased Goal Zero equipment in the past and trusts them. Use this link if you want to buy Goal Zero products (it helps us keep producing videos and articles like this). We are grateful for Goal Zero wanting to support this Survival Makeover video by providing the featured Venture Jump, Yeti, and Nomad panels.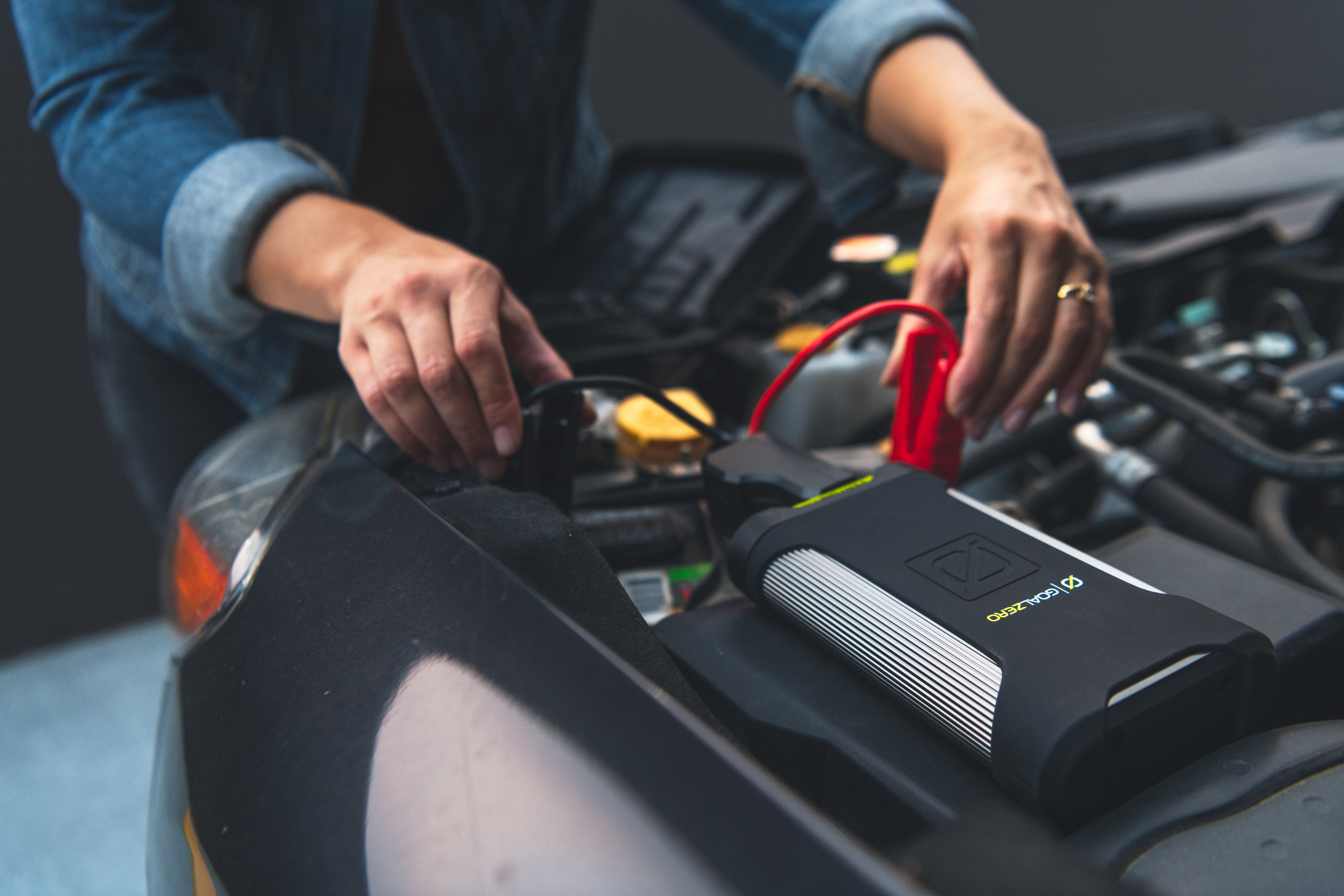 Road Flares / Headlamp If you can find some traditional burning road flares, they are multipurpose (like an easy way to start a fire). But they may not be legal where you are and burn out within 30 minutes or so. Magnetic LED flares are the new standard. Here is a very positively reviewed and affordable set (~$35). A headlamp is almost always preferred to a handheld flashlight for any practical purpose. In the Survival Makeover video above you will see the Slonik rechargeable headlamp featured.
Glass Breaker / Glass Breaker Pen Rusty prefers an unobtrusive, lighter weight "tactical" pen that also uses G2 pen cartridges AND has a glass breaker. This Smootherpro Bolt Action Pen fits the bill and was presented in the video above. It passes through TSA and isn't cumbersome in your pocket, like these chunkies.
Seat Belt Cutter / Knife The primary function of this tool is to quickly a seat belt if it is stuck or the occupant is positioned in a way making it difficult to open. You can stack benefits with a tool like this by having something that can cut a seatbelt AND break glass if needed. The video features an ultralight neck knife Rusty keeps in his console so it's easy to grab when going for a hike or camping.
Slime Flat Tire Kit (or, air pressure gauge, pump, jack, tire iron, spare tire) Flat tires happen. It's always a great idea to have a spare in case your tire gets really shredded by something. If it's just a small-ish puncture, we're big fans of the Slime Kit. It seals the hole, fills the tire, and displays the tire pressure, all without having to jack up the car. Just plug it in and turn the knob and hit the button.
Medical Kits (first aid + trauma kit) Head over to your local Walmart and pick up an inexpensive "first aid kit." This is just a small container with bandaids, anti bacterial ointment, Advil (or the like), small wound dressing, etc. These are affectionately known as "booboo kits." You can also grab one like this on Amazon. It's also a great idea to have something called an IFAK or trauma kit, which is intended for more severe injuries (gunshot wounds, knife wounds, other major traumas). Don't go cheap here. There are many knock offs for things like tourniquets circulating on the webz. Get mil-spec products if possible. Here is an option. Here is a "lighter" option.
Safety Vest One of our tribe offered a great suggestion for this list — a safety vest. Not only is this a potential lifesaver in roadside emergencies, it can be used for stealth as well. How can it be stealth when it's toxic green?! Slip this on and it will be easy to glance right over you… assuming you are city or maintenance workers. Hiding in plain site. Here is the safety vest we featured in the video.
Tie Down Straps + Bungees These are probably going to find more use with SUV / truck owners, but they can be handy even when you have a compact car. Here is a popular and inexpensive set with bungees included.
Tow Strap / Recovery Strap We went get into too much detail here… but these have many uses beyond towing/recovering a car.
Work Gloves Leather gloves are tough and nice to have, but they don't offer the same dexterity as nitrile grip work gloves. Whatever you choose, just be sure they are actual work gloves and not the flimsy cotton gardening gloves.
Sun Reflector / Windshield Sun Shade Many windshield sunshade manufacturers make custom sized shades for individual car models. Whichever product you buy, try to get a layered-construction variety (like Heatshield brand) that either roll or folds out so you can use it as insulation for yourself if needed.
Snow Brush / Scraper This tools primary purpose is to make snow and ice removal from your car a breeze. It is possible that there may just be other uses for it… defensive perhaps?
Water + AquaBrick A couple years back we wanted to test the well known WaterBrick vs the lesser known AquaBrick. Check out the video below to see the test. Bottom line… AquaBrick is by far our favorite portable, long-term water storage solution. If you do decide to keep an AquaBrick in your car, make sure to only fill it to about 85% full. Water expands when it freezes and can crack your container. If you don't use an AquaBrick, at least keep a case of bottle water or a gallon jug of water in your car. ***Use code "E2E" at SaganLife.com (makers of AquaBrick) to save 10% on your purchase AND help us out!***
Food Make sure to have some form of food that keeps well in your car. Granola bars. Jerky. Emergency rations. Trailmix. Or, our favorite, Peak Refuel. The first time we tried Peak Refuel we were hooked and encourage everyone to have about 9–21 meals for each person in their family on hand. Why? Because freeze dried meals are light, nutritious, and convenient. PERFECT for your family if you are facing a disaster at home or on the road. Stock up in our store!
Dummy Kit If you face a situation which calls for you to blend in with a masked crowd of rabble-rousers, there's a few things you need. A nondescript and dark-colored backpack, black bandana, dark hoodie, and a dark hat lined with a bump cap.
Sillcock / Cabinet / Utility Key A small, cheap tool that gets you into difficult-to-access places or utilities. Elevators. Security spigots. Locked cabinets. We'll leave it there.
Siphon Pump Something that you won't need to use often but will be EXTREMELY useful when you do need to call upon it, is a hand pump siphon with long tube. Pull gas from other tanks and pump water from a hard-to-reach places.
Gas Can Don't keep it full in your car. A 1–2 gallon gas can may power you an extra 30–60 miles if and when you need it. It doesn't have to be a Mad Max situation. It might just be extending your range on a long strip or being able to walk and refuel if you run out of gas.
Back Pack As referred to in the "Dummy Kit" section above, a standard and low-vis backpack is a way to convey things without drawing attention. Here is a safe option. Pulling out the Molle soldier bag will get you noticed… in a bad way.
Defensive tool of choice National and state laws vary. Have something you can use to defend yourself. An important note here… a car itself is an extremely dangerous tool.
Binocular or Monocular The ability to see things that are far away is a tremendous asset. Identifying threats and opportunities from a safe distance is possible with a a pair of binoculars and monoculars (as well as other devices). Why not keep something on hand that enables you to look ahead?
Money / Cash Our society has become almost exclusively reliant on digital money. But tangible currency has not been done away with yet. Keep some cash hidden in your car. It may come in handy in a doomsday, or "just-another-Tuesday" situation.
Flex Cuffs / Zip Ties In all likelihood, a non military or police citizen will never have to use cuffs to restrain someone. We are not banking on the odds though. This is a Survival Makeover. Throw some flex cuffs in your car. You will probably only use them to bind some rope/cables together or hold together your kids bicycle. But you will have them… just in case.
Rope / Cordage / Duct Tape This may already be in your camping bag but we need to call it out nonetheless. Be sure to include high quality rope/cordage in your car. We like Survivor Cord XT because of its extreme strength (1,000 lb) and nested fishing line, tinder, and kevlar thread. It also doesn't hurt that it is made in America. As far as duct tape goes, use the good stuff. Gorilla Tape is a bit pricey, but it is arguable the best bang for the buck.
Walkie Talkies + Radio As long as you still have cell service, your communication needs are covered. But just imagine for a moment that you lose service. How do you communicate? Radios are still effective even when cell towers are down. We tested the Motorola Walkabout T800s and were impressed. These don't help you communicate with the family at home unless they have one and are within range. They are very handy though if you are out, towers go down, and you can hand one to a buddy to coordinate. For an emergency / weather radio, these units are handy. Produce your own power, light, and intel with an inexpensive package.
Clothing Socks, base layers, shoes, neck gators, beanie, xtra t-shirt and pants, down vest, packable rain jacket, snow, clothes, sun shirt, wide brim hat, gloves. We're BIG fans of Minus 33 products. Use code "E2E" when your there to help us out!
EDC Bag We're still on the hunt for what we think the perfect EDC bag is. Depending on your vocation, you will need different things. A banker will need a different bag than a janitor, who will need a different bag than a vet. Find an appropriate bag for your daily life and then fill it with smart preps. We will give you this one tip: no matter what bag you have, make sure if you need to get out of your car and get home, the bag will help, not hinder you in accomplishing your goal. Your EDC bag is really its own category. We might do an entire Survival Makeover video just focused on it.
Camping Back Pack You may call it a bushcraft bag or a rucksack. Whatever you call it, it saves the same purpose — carry your complete gear set to a camp site and then back again. This should be viewed as a separate unit and set of supplies from the rest of your car kit because if you need to abandon your car, you will want this kit already packed and ready to grab and go. This kit is particularly important if you are ever in wilderness/rural environments. In the suburbs and cities you will rely on your EDC bag or Dummy Kit.
Road Atlas Can you even read a map anymore? Fortunately it's not that difficult to learn or relearn. It IS difficult however to navigate when Google Maps isn't working or can't be accessed. Keep a quality road atlas in your car.
Fishing Kit Depending on your vehicle, you may be limited on the size of fishing rod + kit you can carry. Almost anyone can fit a compact, telescoping rod + kit in their car though. Here is a popular option. You may also want to keep some yoyo traps in your car kit as well.
Construction Bags Super versatile. Sturdy construction bags can be filled with duff to make a mattress, hold water, make shelter, transport firewood, collect condensation from tree branches, and so on.
Wool Blanket Why wool? Wool is durable, odor resistant, flame resistant, and stays warm even when wet. You can use this piece of kit as a ground cloth or canopy. You can role up in it in lieu of a sleeping bag. You can even fashion it into a poncho or cape.
Tarp You probably have a fairly good idea of the many uses of a tarp. In a survival situation (outside of a city), a tarp is a fantastic piece to create a shelter, extend a shelter, serve as a windbreak, catch water, and many other things.
Heating Options, heating pads, candles If you live in an environment that can get cold, it's a great idea to keep something in your car that can keep you warm IN your car when the motor is not running. Getting out and starting a fire in the woods should be an option for you. But it might not be the best option. If you keep an electric generator in your car (like a Goal Zero Yeti – see below) you may want to keep a small electric heater like this, or evan an old hairdryer. For a low tech option, a UCO candle lantern put out a surprising amount of heat and light [Just be sure to keep the window cracked so you don't die of carbon monoxide poisoning when you think your smart prep will help you survive.] Maybe the best option is to keep a pack of Hothands in your car. They can put out decent heat for up to ten hours. Keep them against your body that you wrap with layers and you will be plenty warm, even in freezing temperatures.
Solar Kit Assuming the sun doesn't go out or get blocked, you have limitless energy in your car if you pack a solar kit. Goal Zero threw in for this Daily Driver Car Survival Makeover piece, and we're thrilled they did. We already had experience with a larger Yeti 1500 kit that we bought and were impressed with. When we shot the video for this episode, we were charging all of the audio and camera equipment with the Yeti 500 and Nomad 50 panels. We were running a significant surplus while doing so. Powering your phone, laptop, flashlights, and other small-to-medium electronic devices is no problem for these powerful Goal Zero units. 🙌 Click here to check out Goal Zero.
This list is by no means exhaustive. Carefully consider where you will be with your vehicle and what you should keep with you. An overlander will include things like a comprehensive recovery kit where a typical suburbanite won't need a winch to pull their car out of a bog. A urbanite who doesn't leave the city will not need a chainsaw or fully equipped camping bag.
Hopefully this Survival Makeover was complete enough to spark ideas for what you should include in your car kit so you can be ready for anything!
In Omnia Paratus!