Grand Trunk has made a name for itself developing reasonably priced and pretty descent quality outdoor gear. They just recently launched a new packable camp chair that appeared to be a nice solution for hole in the market — a good quality camp stool that was functional, sturdy, AND lightweight. We reached out to get a sample for testing and Grand Trunk obliged.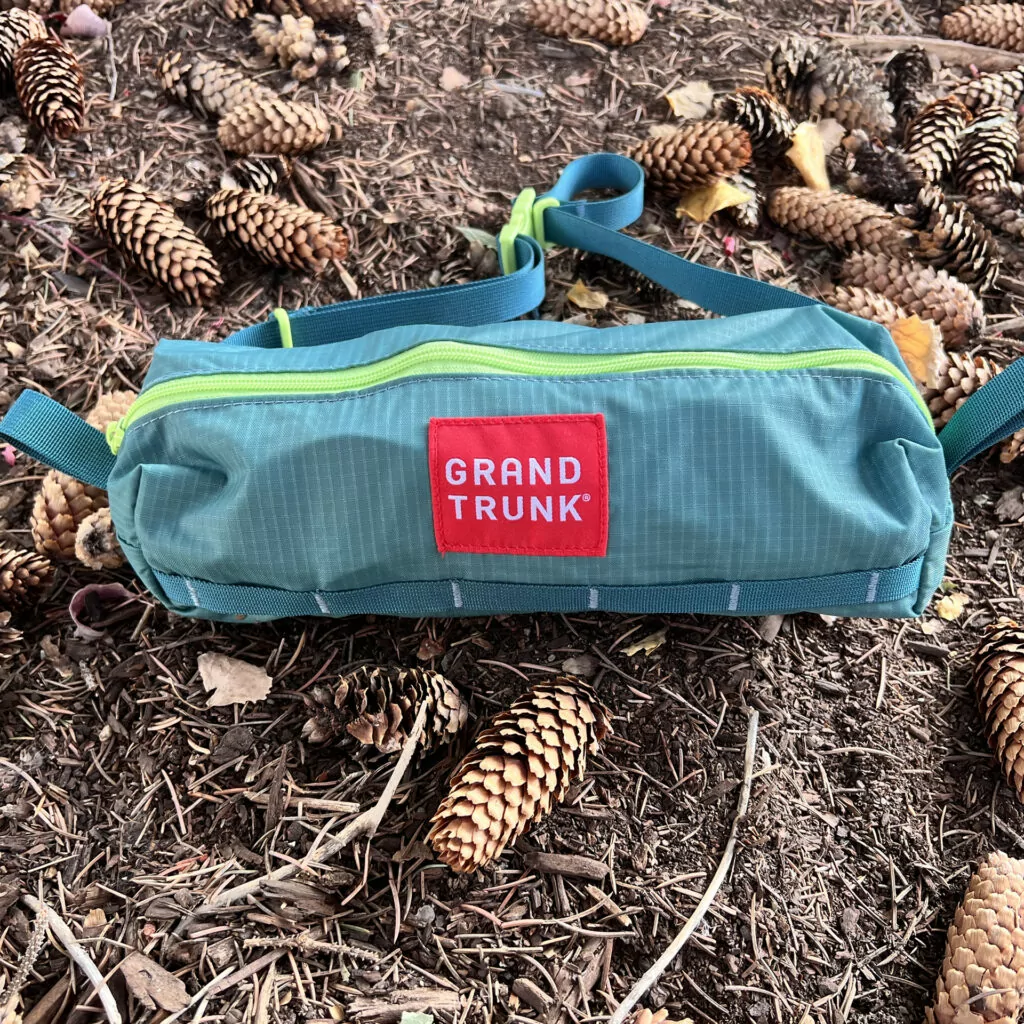 FUNCTIONAL
The swivel base is surprisingly smooth. One would think with the package being so light and using plastic components it might have rough, grinding action. The swivel base not only serves its function, it does it well. Having the ability to swivel may not have been on your wishlist camp chair features, but after using it, you will appreciate the ability to pivot and move to different projects easily.
You can actually take a load off with this stool. Some lightweight / compact stool options don't feel more relaxing than sitting on a precariously balanced log. It sits as high as a stool should, unlike the other compact chair options that have you barely clearing the ground. It almost feels like sitting on a work stool that enables you to get things done.
One small detail that this reviewer appreciates is the mesh storage flap under the seat (you can see it in the assembled photo above). Not only is it a handy place to stuff the chair case, but you can pack it with an insulation layer (down vest, woobie blanket, tree duff, etc) to have it function like an underquilt on a hammock. This will help keep the user's backside warm on cold days and nights.
ONLY COMPLAINT: It does take a little bit of strength to pull the tabs (which are nifty) with enough force to clear the tip of the attachment post and seat them. Once you do it a couple times it will get easier and perhaps be a little more broken in.
STURDY
The weight limit is listed at 300lbs, and this reviewer believes it. We plopped 205lb of rugged man on it and it didn't even flinch. For something as light as the Grand Trunk Compass 360, it's surprisingly stout. We heard no creaking or cracking under load and shifting weight. It never felt like it was about to buckle. Really smart design and engineering are on display with this welcome little camp site companion.
LIGHTWEIGHT
Want to start a fight on backpacking forums? Try defining what you believe "ultralight" is. The guys cutting off extra threads and tags from their gear will lose their goose feathers on you if you dare call this stool an ultralight piece of kit. HOWEVER, a comfortable and useful camp chair that packs down to the size of a Nalgene bottle and only weighs a pound IS worth it for many a backpacker / bushcrafter.
It's a little tricky to place the Compass 360 in exactly one perfect use case "box" for outdoorsmen. If someone really wants to be comfortable sitting for long periods of time, it might be worth it to carry the extra pounds to have a lounge style chair. If you're one of those guys that will not pack one gram more than five pounds as part of your base weight, have fun sitting on your dinner plate size chunk of foam. This is a really nice tweener piece that provides much appreciated convenience and comfort at camp without extra unappreciated pounds or bulk on the trail getting there.
SUMMARY
Overall, the Grand Trunk Compass 360 is an impressive piece of kit. Its functionality, sturdiness, and light weight make it a winner in the current marketplace. Check them out here.
Off the trail, it can find itself usefully employed by almost any outdoorsperson. Cyclers can use when working on their bikes or taking a break. Fishermen can use it as a comfortable perch without banging through the brush with a full-sized lawn chair. Birdwatchers, hunters, and nature-loving flute players will also enjoy its company.