We met up with the Buck Knives crew at Outdoor Retailer in Denver a while back and they wanted to send us out some of their new line up for the old E2E inspection. Here's what we found- Buck has some legit new models that put them squarely back in the conversation for relevant EDC knives. Their classics are still around and well loved for sure, but it's nice to see some fresh concepts coming out of the legendary company again.
Budgie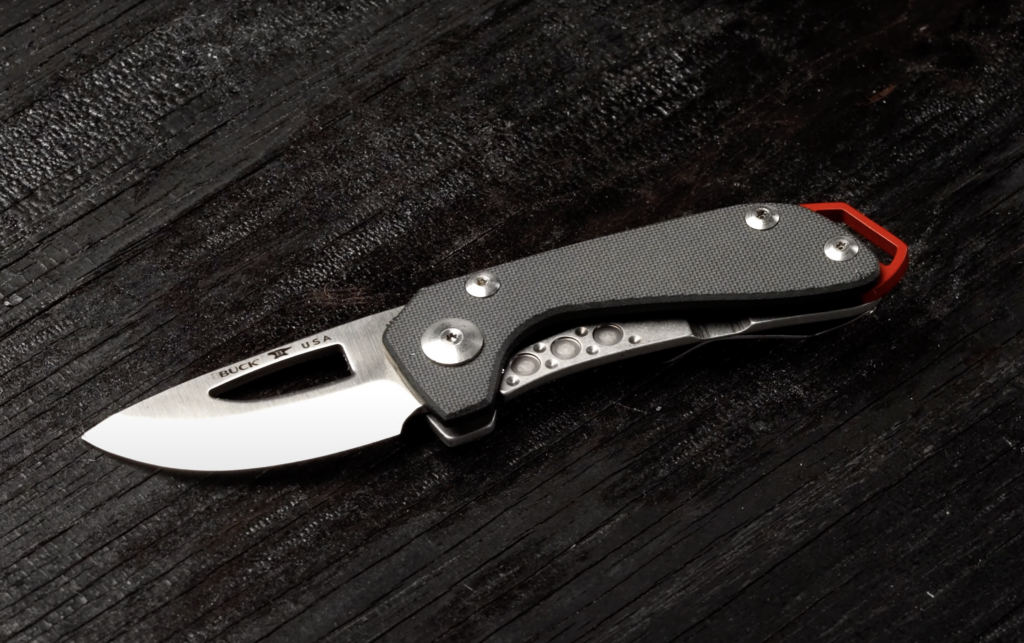 The Budgie is a utilitarian, lightweight (2.1 oz!), and compact EDC knife that feels like an absolute reinvention of a Buck Knife. It comes with the same robust build, and tough structure you'd expect from a Buck Knives. But the aesthetics…. 🔥
The Budgie sports an S35VN, drop point blade that will take a great edge, and hold that edge for a long time. Its durable micarta and metal scales won't wilt in the face of work either. The red lanyard loop is a striking but functional touch. The dimpled frame lock ads a really cool technical vibe to the knife as well. And the clip is a fantastic balance of "easy to deploy the knife when wanted" and "this sucker isn't going to come off on its own."
[When it comes to assessing folding knives, a plethora of judgment criteria may be called upon. However, many of those gauges are subjective to the user. We feel that there are three more objective things to consider when grading a pocket knife: 1) Ease of Deployment, 2) Safety, and 3) Craftsmanship. Accordingly, we will pass all three Buck Knives we just reviewed through this rubric — starting with the Budgie.]
Grading Scale
1 = Terrible 2 = Unimpressive 3 = Tolerable 4 = Impressive 5 = Terrific
Ease of Deployment: 3 [The thumb hole has slightly uncomfortable 90-degree angles and the tension was such that opening with one hand would be difficult for some.]
Safety: 4 [The solid frame lock knife will keep the knife open. A frame lock forces you to put your thumb in the path of the closing blade though]
Craftsmanship: 4 [Tight tolerances. Consistent angles and grinds. No slop.]
Check out the Budgie on Buck Knive's website here
Onset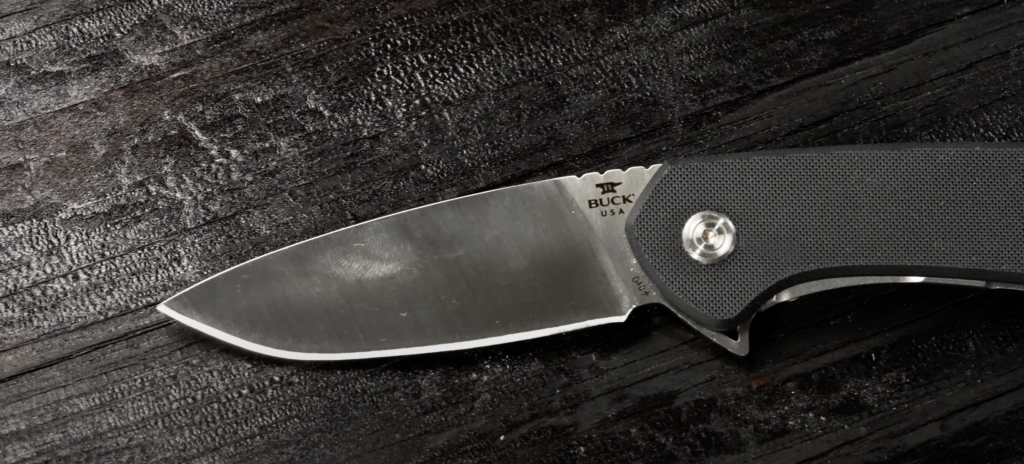 The Onset is a hybrid of a classic hunter and a SWAT team tactical knife. When open, it is so tight and solid that it feels like a fixed blade knife as opposed to a folder. It's a touch hefty at 4.9 oz but it still maintains a low profile for comfortable EDC carry.
The Onset wields a full flat ground, S45VN drop blade with a slightly pronounced belly — making it a titch more slicey. The flipper supports a fast opening action while the the full, metal frame lock authoritatively SNAPS and holds the knife open. The Onset is no dainty, ultralight EDC. Nor was it designed to be. Everything about this knife just feels SOLID.
Ease of Deployment: 4 [Flippers make for fast and easy deployment. Second only to assisted/automatic openers.]
Safety: 4 [The Onset also has a strong frame lock to hold the knife open, but requires a thumb in the path of the blade to close it.]
Craftsmanship: 4 [The unit that Buck Knives sent to us had a few small grind issues, but the overall stoutness of the knife and lack of play pushed it up to a 4.]
Paradigm 590 + 591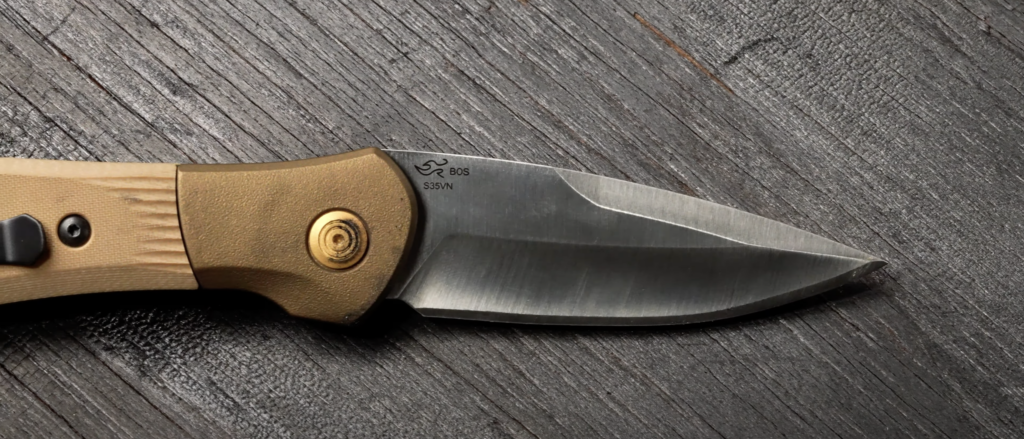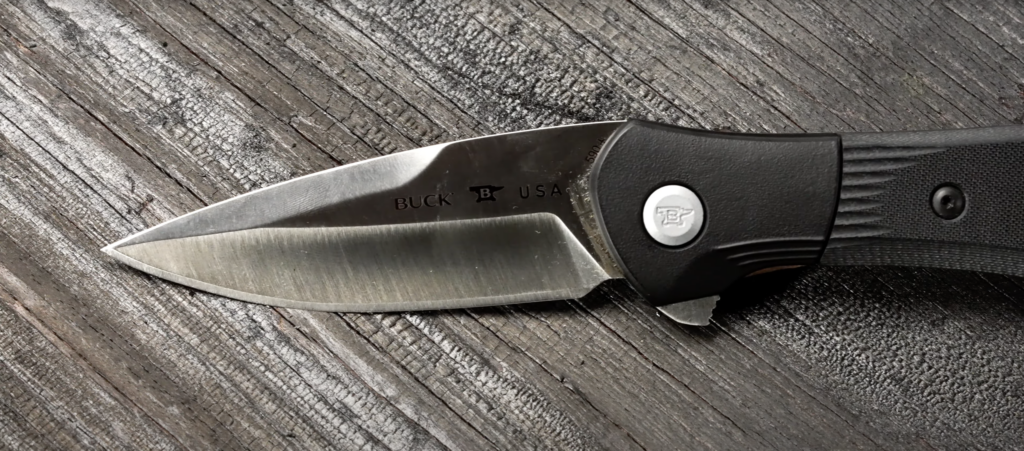 Buck Knives's Paradigm model caught our eye this year and was one of our most anticipated reviews (at least by us). The bolster shift mechanism is a novel approach to knife opening that is safe and smooth. When open, the knife feels like a compact fighter (and looks the part as well). The model comes in two options (an automatic opener, and a shift mechanism activated flipper.
The Paradigm's blade shape is almost a spear point and, with the swedge, is optimized as a piercer. In fact, it's almost dagger like. The S35VN steel promises a lifetime of devoted and effective service. And the G10 handles with hang with you for just as long.
Ease of Deployment: 4 [The 591 (auto) might be close to a 5, but the shift mechanism does require a little extra oomph to open. The 591 has a surprisingly smooth and easy opening despite the two required actions.]
Safety: 5 [The blades securely lock open on both models and neither requires an unsafe motion to close.]
Craftsmanship: 4 [Both units are well built. They are production knives built to be tough and they meet the mark.]